There are many ways for you to contact us if you have a requirement
or just a question about machining or design in general:
By phone; (815)-786-2293
By Fax; (815)-786-6922
By E-Mail; customerservice@jmarcs.com

bjarosz@jmarcs.com - Bill Jarosz - new inquiries - company information

. tmenzel@jmarcs.com - Tom Menzel - delivery information - technical help


OR
Our doors are always open to visitors. If you'd like to visit our facility
anytime, here are some directions from a couple of the more frequent
Greater Chicago locations;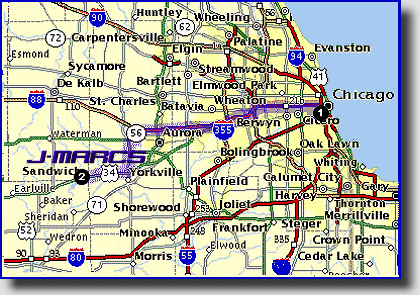 (1, Starting Point In Chicago - 2, J-Marcs Corporation)

From O'Hare Airport;

1) Take the I-190 East airport expressway to I-294 South.
2) Take I-294 South to I-88 West (8 mi.) (Tollroad..$.80)
3) Take I-88 to IL Rt. 56 West (25 miles)
4) Take IL Rt. 56 West to US30 East/IL47 toward Sugar Grove (3.5 mi.)
5) Take US30 East/IL-47 for 3 mi. then stay straight on IL-47 for 3 more
miles to Cannonball Trail
6) Turn right onto Cannonball Trail and go to US 34 (1.4 mi.)
7) Turn right onto US 34 and proceed 6.4 miles to J-Marcs. (J-Marcs is on the
left hand side)
From Downtown Chicago:

1) Take I-290 West (Eisenhower Expressway) out of town for 14 miles and
exit left at Exit #15A "I-294 South / I-88 West". Merge onto I-88 West.
2) Follow steps 3 through 7 above.