Quality Assurance at J-Marcs Corp. starts long before the metal
removal processes begin.
Beginning at the quoting stages of a job, J-Marcs personnel perform
their duties in accordance to strict operating procedures including timely
and accurate estimating of price, delivery schedules, and terms and
conditions in order to ensure a smooth transaction with our customer.
Upon receipt of an order, the job is scheduled into the shop in
accordance with the manufacturing time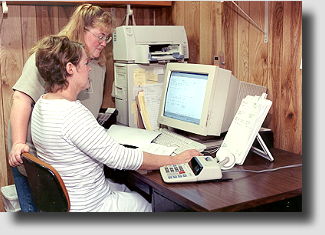 required to finish the
work as quoted.
This includes:
1) The timely
ordering of raw
material when
required --(much
of our work
involves customer
supplied castings).
2) Document
review to ensure
that specifications for a particular part haven't changed for repeat orders.

3) Development of the most practical and economic routing for new
jobs and reviews of existing routings for previous jobs in order to verify
that the best methods will continue to be used.
4) The preparation and staging of the shop production package including
work order, latest revision drawing with highlighted critical dimensions,
and necessary fixtures, tooling, and gages particular to the job.
5) Receiving inspection including verification of size, alloy, certs (if
required), and count for commodity raw materials and the observation
of general surface appearance and count for customer supplied castings.
Using conventional inspection tools regularly calibrated with
J-Marcs in-house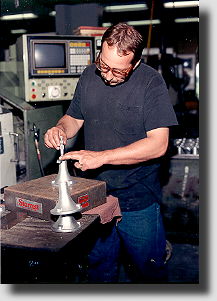 calibration standards along with custom made gages particular to the job, our highly versatile and skilled machinists go to work. At-machine inspection is continuous and based on some of the particulars of the job with 100% inspection routinely performed on first time jobs and critical dimensions. As J-Marcs specializes in the precision machining of castings, our machinists are well known for their timely resolution of defects inherent in the casting process (such as inclusions) that affect the dimensional integrity of the finished part--usually right at the machine with our customer's engineers.
It all adds up....state-of-the art production and inspection equipment,
careful attention to all of the up-front and in-process details of your
machining requirements, and a highly experienced group of skilled
machinists.....J-Marcs Machinery, Methods, and Manpower being
put to use to ensure the integrity of your products and reduce your
costs of quality.